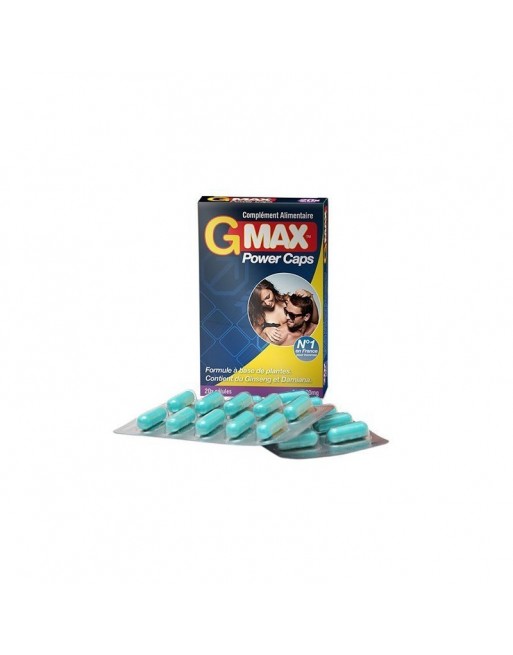  
Gmax Power Caps Men - 20 capsules
G-Max Power Caps for Men is a dietary supplement for men that helps improve the libido of Gmax, sold by your Aphrodizlove shop.
Security guarantees
Delivery policy
Privacy Policy
The dietary supplements GMAX Power Caps can be used so that you can enjoy the benefits of nature... In order to spice up your sex life! Thanks to its many natural ingredients renowned for their aphrodisiac properties,blue pills can play a role during sexual intercourse in men. For more fun for two! No more low libido, erection problems, performance worries, etc. Each ingredient contained in the formula acts on a specific point. We will come back to this point a little later, in the paragraph dedicated to ingredients.
It should also be remembered that taking these supplements does not require a prescription or a visit to the doctor since it is not considered a medicine. Buying it is therefore easy, especially if you go through an online pharmacy to order it.
GMAX Power Caps is formulated with many exotic ingredients like ginseng and damania. Ingredients that are reputed to help improve the quality of sexual life and to boost libido. In the end, these small food supplements will offer you a product:
Made from exotic ingredients and renowned for their properties
Designed specifically for men
With 100% natural ingredients
Easy to take
For results that meet your expectations
A libido stimulated at the top
Strong and lasting erections
Increased sexual performance and a marked improvement over before:
A more intense orgasm during each intercourse
Quick action in a matter of weeks
No customer reviews for the moment.
16 other products in the same category: