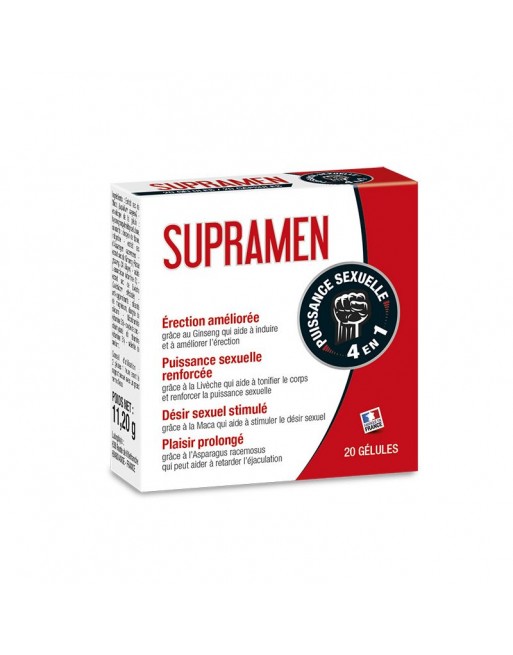  
Supramen Man - 20 capsules
A box of aphrodisiacs of 20 capsules for 4 indispensable effects of the brand Labophyto proposed by Aphrodizlove.
Security guarantees
Delivery policy
Privacy Policy
You want to strengthen your sexual performance with strengthened and more powerful erections. This box of 20 capsules of French manufacture will amaze you. This box of 20 Supramen capsules will increase your sexual desire thanks to the famous Maca and will also prolong your pleasure. A box of aphrodisiacs of 20 capsules for 4 essential effects.




Supramen contains the following active ingredients
• Maca Root 380mg
It helps stimulate sexual desire
• Root Asparagus 200mg
It helps to delay ejaculation
• Ginseng Root 100mg
This plant helps to induce and improve erection
• Livèche Racine 80mg
It strengthens sexual power thanks to its invigorating action.
• Vitamin C 80mg 100% AR ,Niacin 16mg 100% AR ,Vitamin B1 1.1mg 100%AR,Selenium 55μg 100%AR,Zinc 10mg 100% AR.
These vitamins, minerals and trace elements help to reduce fatigue lives C and Niacin, to the proper functioning of spermatogenesis Selenium and improve sexual desire Zinc
Reference Contributions

Tips for use: Take 2 capsules 1h before sexual intercourse.
Not recommended for children, adolescents and people on antihypertensive or antidiabetic treatment
Composition: Maca Lepidium meyenii extract, Asparagus racemosus extract, Ginseng Panax ginseng ca Meyer extract, L-ascorbic acid vitamin C, Livèche Levisticum officinale extract - anti-caking agents: magnesium stearate, Nicotinamide vitamin B3, thiamine hydrochloride vitamin B1.
Vegetable capsule: hydroxypropyl methyl cellulose, natural dyes: spirulina concentrate and apple
French manufacture: product in accordance with European texts on nutritional claims

Data sheet
composition

Maca extract (Lepidium meyenii), Asparagus racemosus extract, Ginseng extract (Panax ginseng CA Meyer), L-ascorbic acid (vitamin C), Lovage extract (Levisticum officinale)
Specific References
ean13

3760273954369
No customer reviews for the moment.
Customers who bought this product also bought:
16 other products in the same category: