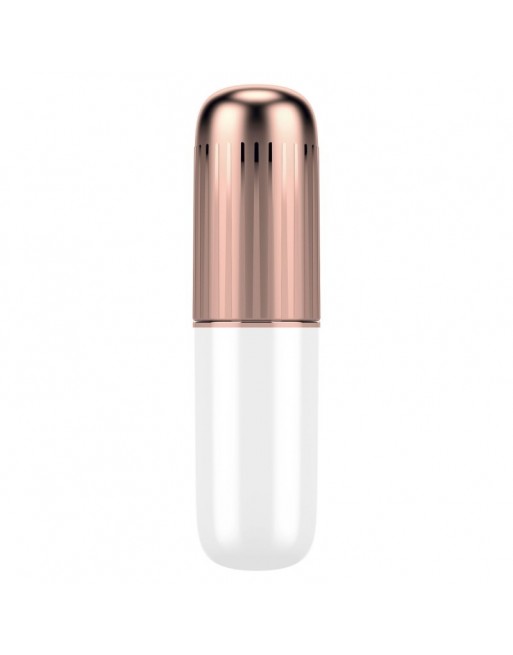  
Satisfyer Secret Affair Stimulator - White and Rose Gold
Clitoral stimulator with powerful vibrations of the brand Satisfyer, offered by your shop Aphrodizlove.
Security guarantees
Delivery policy
Privacy Policy
The small size of the Secret Affair hides its powerful vibrating tip. With a removable cap, the Secret Affair is not only hygienic, but it's the perfect travel companion, giving you targeted stimulation wherever you go!
The ordering of the Toy is carried out via an innovative Touch Control function
This varied Toy can be used with or without a cap for clitoral stimulation
The Toy stimulates the clitoris with powerful vibration patterns
15-year warranty
Can be used with or without a cap
15 vibration programs
Innovative Touch Control function
Clitoral stimulation by powerful vibrations
The Satisfyer Secret Affair: stylish accessory, handy travel companion, breathtaking source of pleasure
Do you crave sparkling adventures and voluptuous chills? Then this mini-vibrator is ideal for you! The Secret Affair is not only a wonderful companion for your lonely moments at home, but it also disappears elegantly and discreetly in your purse. Well camouflaged next to your lipstick, this chic clitoral vibrator will accompany you in the ups and downs of everyday life, always there when you need it.
Your little travel companion combines an elegant and discreet design with a surprisingly powerful intensity. Just take off your cap and let your 5 speeds and 10 exciting vibrations drive you crazy for sure.
The control is done via an innovative touch screen and allows you to use it very easily, even when everything is getting out of hand.
What are the features of the Secret Affair Satisfyer ?
The straight body and rounded end of the mini-vibrator are made of soft silicone that gently huddled against the clitoris. Thanks to his amo hood
No customer reviews for the moment.
16 other products in the same category: