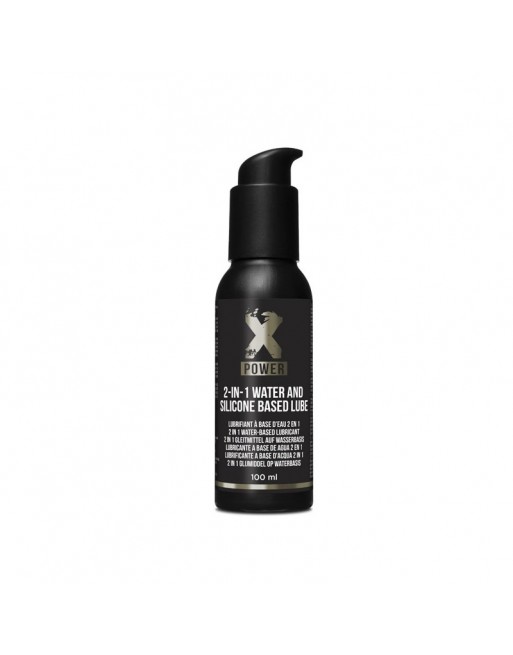  
2 en 1 Lubrifiant hybride à base d'eau et silicone 100ml
Le lubrifiant 2-in-1 Water And Silicone Based Lube de la gamme Xpower à été fabriqué par Labophyto pour sa double action. Gel de massage et lubrifiant, il permet de donner aux massage une fin torride. Ce lubrifiant à base d'eau et de silicone à une texture idéale pour amplifier les sensations et augmenter le plaisir sexuel
Security guarantees
Delivery policy
Privacy Policy
Le lubrifiant 2-in-1 Water And Silicone Based Lube de la gamme Xpower à été fabriqué par Labophyto pour sa double action. Gel de massage et lubrifiant, il permet de donner aux massage une fin torride. Ce lubrifiant à base d'eau et de silicone à une texture idéale pour amplifier les sensations et augmenter le plaisir sexuel
2-in1 Water And Silicone Based Lube:
Lubrifiant à base d'eau et de silicone
Double action: gel de massage et lubrifiant
Flacon de 100 ml
Pour qui :
Femmes et hommes souhaitant un lubrifiant faisant aussi office de gel de massage
Femmes et hommes souhaitant des rapport sexuels lubrifiés sur une longue durée
Zoom sur le 2-in-1 Water And Silicone Based Lube de la gamme Xpower:
Sa composition permet de lubrifier sur une longue durée
Sa texture douce et agréable permet d'exacerber les sensations
Double action en tant que gel de massage et lubrifiant
Sa formule vegan et au PH neutre pour la peau respecte son équilibre tout en l'hydratant.
Conseil d'utilisation:
Appliquer le lubrifiant sur la zone du corps souhaitée.
Etalez la matière.
Se rince facilement avec de l'eau
Compatible avec les préservatifs en latex
Ne pas utiliser avec des sextoys en silicones
Poids net: 100ml
Ingredients : Aqua, Glycerin, Propylene Glycol, Sodium Acrylate/Acryloyldimethyltaurate/Dimethylacrylamide Crosspolymer, Hydroxyethylcellulose, Isohexadecane, Phenoxyethanol,Ethylhexylglycerin, Polysorbate 60, Citric Acid
Usage illimité. Avant d'utiliser ce produit, testez une petite quantité de lubrifiant sur l'intérieur de votre avant-bras. Arrêtez l'utilisation dès l'apparition d'une réaction
No customer reviews for the moment.
16 other products in the same category: